Book Summary #01 - How to Be Great at Your Job | Part 2
Get things done. Get the credit. Get ahead - by Justin Kerr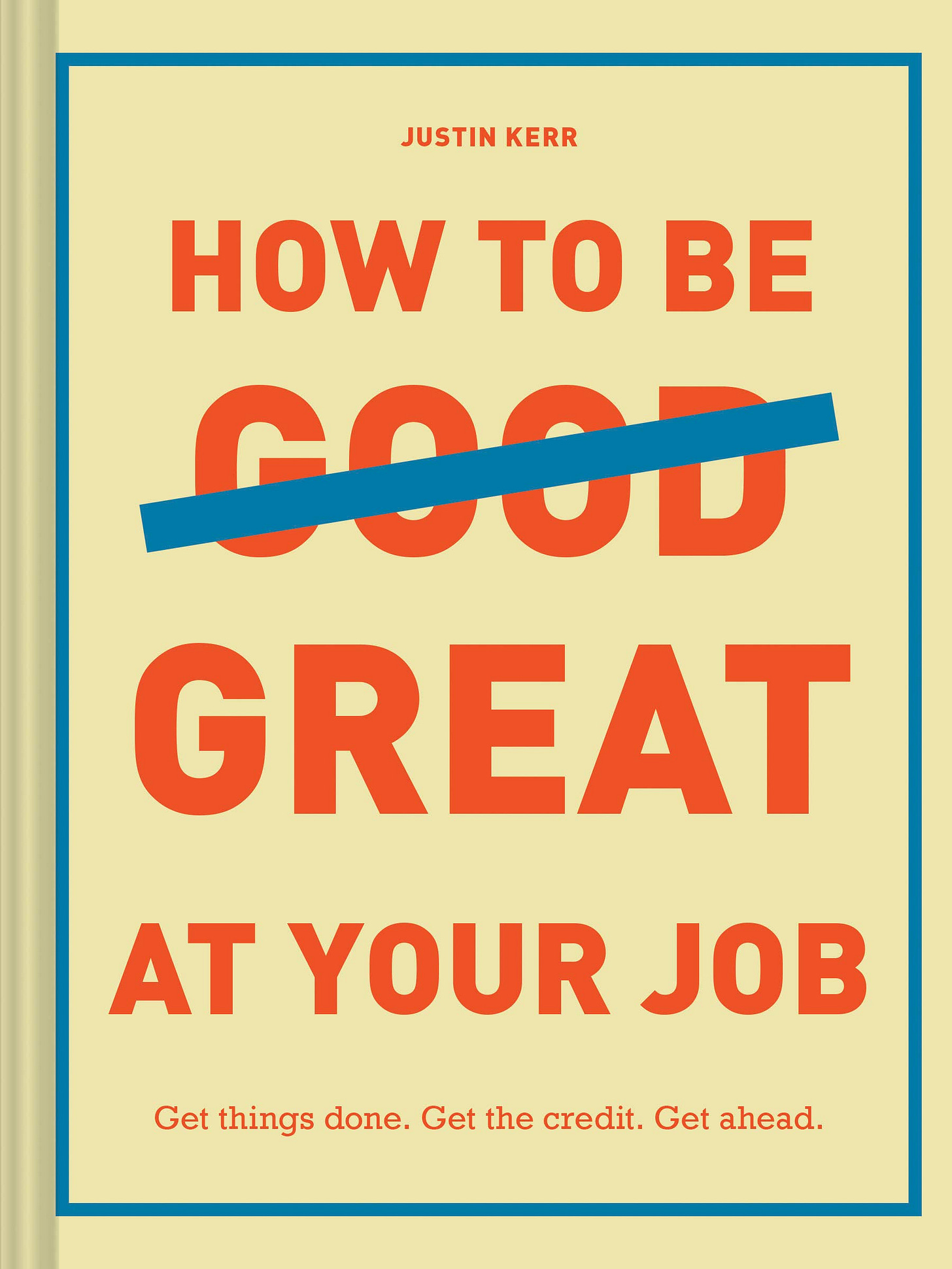 This is a 3 part book summary. Here's Part 1.
Part 1:
Introduction

Being good at your job is easier than you think

The Basics

How to work with other human beings

Overcommunicate

Make it easy to say yes

If someone at work hates you
Part 2:
How to give a presentation

The perfect structure

The perfect content

How to write an email

Six requirements of an awesome email

How to win an email fight
Part 3:
How to get promoted

Setting your goals

Understanding the playing field

Making your case

How to balance life and work

How to create "me" time (during the workweek)

How to leave work at work

How to take time off
This article contains notes for Part 2.
---
3. How to give a presentation
CONTRARY TO POPULAR BELIEF, THE WORLD IS NOT SPLIT INTO GOOD PRESENTERS AND BAD PRESENTERS.
There are two important aspects of giving a good presentation: structure and content. 
THE PERFECT STRUCTURE 
To be a strong communicator, create a simple framework for your message and repeat yourself as often as possible.
It's six simple steps: 

The one-sentence overview

Explain the structure

Give them the headlines

Present each topic

Tell them what's next

The one-sentence conclusion
Step 1: The one-sentence overview -  Tell them what you're going to tell them. "I am here to present the Boys' Winter Outerwear Collection."
Step 2: Explain the structure -  Let your audience know exactly how many points they should listen for. "There are three main points I want to discuss."
Step 3: Give them the headlines -  Announce the big headlines you're going to talk about. "I want to talk about nylon fabrication, length, and price points."
Step 4: Present each topic -  You're now ready to present your first topic. Cue your audience that you're starting a topic. Then cover the topic. Then summarize what you just covered.
Every topic you cover should follow the same pattern: cue, present, summarize.
Step 5: Tell them what's next - You want to keep reinforcing your structure throughout and direct people as you move from one topic to another. Not only does this help reengage a wandering listener, but it also builds a sense of momentum in your presentation.
Think of all the times you've listened to someone and thought, "OH MY GOSH—how long is this person going to talk?" Your only recourse is to guess how many pages of notes they have left in their hands.
Step 6: The one-sentence conclusion - Remind your audience of what you've told them. It should only be one sentence.
Open the floor for questions. You're done.
Pro Tip: Skip the handouts if you have any.
THE PERFECT CONTENT
The content of a presentation can be boiled down to two elements:

What is happening (Hero facts)

What are you going to do about it (action steps)
Hero facts
A hero fact is a singular point of evidence that stands out in a crowd. It is the thing that is easily digestible, and thus easy to remember.
Building a hero fact is a three-step process:
Find the number: Ask yourself the following: "If I could only use one number to prove my point, what would it be?" A quick rule of thumb is that if you can't memorize the number, then it's probably too complicated - and you shouldn't use it.

Set the context: Equally important to picking the right number is setting the context in which that number exists.

Make it surprising: With so many numbers being exchanged in any given meeting, it is always a good idea to try to make your hero fact stand out in a crowd. An effective way to do this is to make a connection between your fact and a surprising detail - the more specific the better.
Creating hero facts takes time and effort, so most people don't bother to do it, but if you take the extra step to create compelling content, your audience is more likely to pay attention.
Action steps
An action step is a concrete movement you take toward achieving a goal or solving a problem. 
By definition, it is specific, measurable, and almost always associated with a deadline: "X is happening, so I will do Y (by Z time)."
Don't present an idea and leave it for others to interpret or wonder what the point is. You always want to lead the discussion, and by recommending your action step(s), you give meaning to the facts and figures.
If something is going wrong, don't just say it's going wrong— say what you're going to do about it. If something is going well, don't just brag about it— tell me how you are going to maximize the opportunity and what comes next.
4. How to write an email
EMAIL IS THE SINGLE MOST IMPORTANT MEANS OF COMMUNICATION. PERIOD.
Presentations are good and all, but if you think you are going to change people's opinions or get a key decision made by being a passionate and articulate presenter, you will quickly become frustrated (and ineffective), because presentations are a relatively tiny part of your job—especially when compared to the amount of information transfer that takes place day to day and hour by hour through email.
SIX REQUIREMENTS OF AN AWESOME EMAIL
The rules of good communication are roughly the same whether you're standing in front of a hundred people, talking one-on-one with your boss, or using this crazy thing called email.
But one important point of distinction when it comes to email is the fact that your message is going to be competing with potentially hundreds of other emails to get the recipient's attention and (hopefully) engagement.
Writing good emails can have a defining impact on your career & your personal life.
Here are the six requirements of an awesome email: 

Subject

Deadlines

Bullet points

Jump to conclusions

White space

The attachment-trap
Subject: Make sure your subject line is specific, punchy, and action-oriented:  "Q2 Project: Action Required: Chris Goble + Mauri Skinfill"
This is the first thing that people see, so it is your most important call to action. Equally important to being specific is the need to be succinct.
Deadlines: If there is a deadline in your email, meaning you need someone to do something by a specific time, you must include it in the subject line: "Budget Overview: Due Tuesday, 3:36 p.m".
It is your responsibility to ensure that what you need to happen by what time is clearly legible for the recipient at first glance.
Bullet points: The best suggestion you get that you can use throughout your life would be this: use bullet points. Bullet points project, "I am organized— therefore, pay attention to what I am telling you." This is a good thing.
Don't use a dash (-), an asterisk (*), underscore (_), or indent to organize your information.
When using bullet points, you should limit yourself to only one sentence per bullet. If you are using more than one sentence per bullet, you are either rambling or making more than one point.
Jump to conclusions: Get right to the point in your emails. Remember that your recipient reads a lot of emails every day, so don't waste their time. The longer it takes to get to the point, the greater the chance that they will miss it.
White space: Designing an email is as important as the content itself. If the email isn't easy to read and well organized, people are much more likely to skip it until later - or miss the point you're trying to make altogether.
The trick is to give the information room to breathe. White space is your friend. It is your responsibility to make the email easy to read and attractive to look at. A simple rule of thumb is the fewer words, the better.
The attachment-trap: Assume that no one opens attachments and, therefore, always provide a summary in the body of the email itself.
These email rules about attachments are all about showing respect for the recipient and putting their experience above your own small inconvenience of typing out a few lines to provide context for the attachment.
HOW TO WIN AN EMAIL FIGHT
No matter how much you don't like the person, no matter how wrong they are (and right you are), no matter how you got there, keep it simple.
Get up from your desk, find the person, and have a discussion. "Hey, can we talk about that email? It seems like we have a missed connection, and I wanted to resolve it in person. Do you have a minute?"
If other people were involved in the email chain, make sure that immediately after you resolve the dispute you go back to your desk and send an email, cc'ing everyone, with a simple message that says something like, "Hi Everyone, Josh and I were able to connect on this topic, and here is how we would like to proceed."
BONUS: WHAT'S BLACK AND WHITE AND READ ALL OVER?
Emails may seem transitory, but once you hit SEND they are as good as written in stone. Emails can reach wide audiences, some of whom you may not have originally intended to read your message. Free of context, tone, and personal intimacy, emails can be manipulated, misunderstood, and potentially harmful. If you write a bad email - use the wrong language, talk about something or someone in the wrong way - best of luck walking that back.
On the flip side, if you are writing good emails and presenting yourself in an effective way, your message can travel to people within the organization to whom you wouldn't normally have access.
---
This is Part 2 of the book. Check here for Part 1. Part 3 notes & summary will be the next article.
Wondering why did you receive this mail on an odd Saturday of the month? As promised, you'll be receiving my notes on every even Saturdays. But wanted to share the remaining part of the book so that we can quickly jump into other books in the upcoming mails.
If you found this article interesting and valuable, please share this on any of your social-media platforms. 👉📩