Book Summary #01 How to Be Great at Your Job
Get things done. Get the credit. Get ahead - by Justin Kerr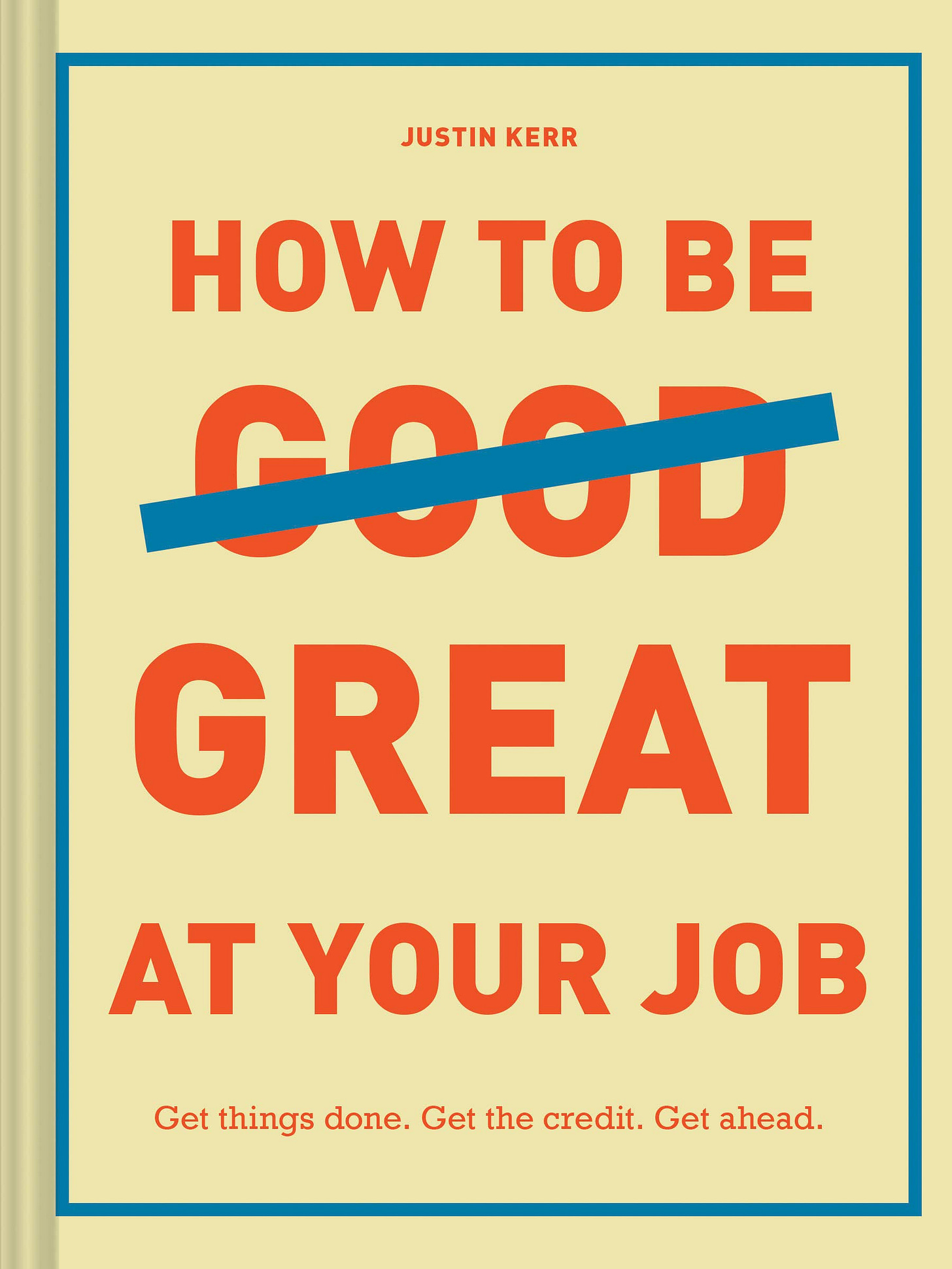 Before sharing my notes & the summary of the book here, I want to share this. Well, this newsletter/article is not like other book summaries you find on the internet. I have subscribed to many newsletters similar to books. But they don't give as much value in the notes/summary if you read the entire book.
I want to solve that problem. So, my purpose is to provide as much value as possible and give all the summary & learnings from it as if you're reading the book.
Even if you do not read the book, if you read this summary, you would learn all the key concepts from it. It is as if like, you're reading 60% - 70% of the book.
——————————————————————————————————————
This book is so much value for everyone. Since the summary is very long, I'm breaking this summary into 3 parts. The 2nd & 3rd part will be separate articles.
Here's the breakdown of the 3 parts:
Part 1:
Introduction

Being good at your job is easier than you think

The Basics

How to work with other human beings

Overcommunicate

Make it easy to say yes

If someone at work hates you
How to give a presentation

The perfect structure

The perfect content

How to write an email

Six requirements of an awesome email

How to win an email fight
Part 3:
How to get promoted

Setting your goals

Understanding the playing field

Making your case

How to balance life and work

How to create "me" time (during the workweek)

How to leave work at work

How to take time off
This article only contains notes from Part 1.
————————————————————————————————
Introduction
BEING GOOD AT YOUR JOB IS EASIER THAN YOU THINK.
If you want to get promoted, leave work early, win an email fight, or make someone at work stop hating you, the formula is the same: take responsibility & overcommunicate like crazy.
Most people never realize that the reason they are working late is that they are losing two hours of their day waiting for people to reply to their (sucky) emails. Write better emails, leave work early, have a better life. Sometimes it really is that simple.
Let's get to work.
1. The basics
THERE ARE TWO FUNDAMENTAL BEHAVIORS YOU MUST ABSOLUTELY COMMIT YOURSELF:
Be early. Be accurate. Everything else will take care of itself.
More important than convincing people you're smart is convincing people they can trust you. Trust you to be on time. Trust you to deliver accurate information. Trust you to do what you say you are going to do.
Being accurate and being early—that is all that matters, so keep it simple: Do good work. Turn it in on time or ahead of time, if you can. Repeat.
BE ACCURATE
Being accurate is more important than being early, because if people don't believe what you're saying they won't care when, where, or how you say it. Simply put, being accurate is the foundation of your reputation at work.
It is far better to be a bit slower—and more accurate—than a bit faster and wrong. Understand this. Live this.
There are two behaviors that can help you ensure accuracy: breathing and asking questions.
Take a deep breath
It is really, really unimportant whether you send that email now versus thirty seconds (or even two minutes) from now.
To ensure accuracy in your work on a consistent basis, take a deep breath before you hit SEND every single time. 
The goal is to create a trigger (a cue) to remind you to slow down and double-check your work before hitting SEND.
Make sure that the attachment is actually attached. Make sure the formulas all add up. Make sure the document is formatted to print on one page.
Of course, mistakes are going to happen, but you can at least eliminate the dumb ones.
Create your own mental checklist of things that could go wrong, and don't let them go wrong. 
Pro Tip:
The same rules apply when someone asks you a question in a meeting. Rather than being overanxious to always have an answer on the spot, take a deep breath, and think before you speak.
Ask clarifying questions If someone asks you to do something, make sure you are 100 percent clear on what it is they actually want.
Simply put: if you don't understand something, ask questions until you do.
BE EARLY 
Ninety-two percent of your problems at work will go away if you show up to work earlier than you did yesterday.
The secret to work-life balance, good relationships with your coworkers, and early promotions all rest on your ability to get to work early and turn in your work early. (Oh, and don't forget to leave work early - seriously - leave work early.)
Always aim to deliver your work twenty-four hours in advance of a deadline.
Think of your performance grade this way: 

A = Twenty-four hours in advance

B = Same day as deadline

C = At the deadline (5:00 p.m. on an EOD deadline)

D = EOD on an EOD deadline (after 7:00 p.m.)

F = Missed the deadline and gave no warning
Getting a C doesn't mean you're going to get fired, but it certainly won't be moving you ahead in the ranks.
Your goal is to control the flow of communication and stay ahead of your boss's concerns.
As Oprah Winfrey wisely said: "You teach people how you want to be treated" and when it comes to leaving work, the same rules apply: if you build a reputation as someone who leaves work at 6:00 p.m. every day, people will adjust their expectations and requests accordingly.
BONUS: MEET WEEKLY
If you don't meet with your boss on a weekly basis, you are going to have a hard time being successful at your job. This meeting should be a dedicated thirty-minute block that is regularly scheduled every week. If it isn't happening, ask for it. In fact, demand it (politely, of course). 
The purpose of this meeting is to stay on the same page as your boss by sharing timely updates, getting approvals, and resolving open issues. 
There are three steps to creating a successful weekly meeting: 
GET THE TIMING RIGHT:

Don't schedule on a Monday - there are too many things happening on a Monday.

Don't schedule on a Friday - no one likes meetings on a Friday.

You want to aim for the early morning if possible.

If the meeting is scheduled for late afternoon on a Tuesday, there's a high likelihood that other meetings will take priority or your boss will run late and you'll lose your scheduled time.
SEND AN AGENDA: Email your boss a bullet-point list of topics by 5:00 p.m. the day prior to your weekly meeting. Doing so ensures that the meeting is not canceled, helps you organize your own thoughts, and gives your boss a heads up in case they need to prepare for a certain topic or decision. Sending an agenda says, "I'm awesome. I'm organized. I'm good at my job."

LEAD THE MEETING: It is critical that you go into the meeting with the mind frame that it's your meeting to run. You set the agenda, you lead the discussion, you ask the questions, you get the answers. Come prepared with specific questions.
2. How to work with other human beings
LIKE IT OR NOT, HAVING A JOB USUALLY REQUIRES THAT YOU INTERACT WITH OTHER PEOPLE.
Whether it is a frustrating coworker, an overachieving peer, or a rah-rah boss, it is important to acknowledge that everyone is human. 
OVERCOMMUNICATE
The most common complaint people make in the workplace is "I don't get credit for all the work I do." 
Just because you did something doesn't mean that everyone else knows about it. It is your responsibility to tell people (especially your boss) what you are doing, as well as when and how you are going to do it.
The simple truth is that it isn't enough to do the work.
Communication goes two ways - inbound and outbound. 
Your goal should be to increase your outbound communication (updates, progress reports, agendas) as much as possible in order to limit (and head off) inbound questions and concerns. The more you tell people what you are doing (outbound), the less they will try and tell you what you need to do (inbound).
The Problem (What happens actually): 
Here is what people think happens on a project: 
1. Your boss asks you to do something 
2. You go away and do it 
3. You present it back to your boss 
Here is what actually happens on a project: 
1. Your boss asks you to do something 
2. You go away and work on it 
3. Your boss asks you if you are working on the project 
4. You say you are working on it 
5. A few hours (or days) later your boss asks again if you are going to be ready for the deadline 
6. You say yes 
7. You present the project to your boss
The key point is that most people don't consider the importance of their boss's experience during the journey to complete a project. Most people are so focused on themselves and their own experience—"I finished the project on time, so what's the problem?" - that they completely miss the fact that their boss was left in the dark with no visibility to progress along the way.
Think of it this way: each time your boss asks you if you are working on the project, what they are really saying is: "I'm feeling anxious because I haven't heard from you, and I'm worried that the work won't get done."
This is the crux of the "I don't get credit for all the work I do" complaint.
How to fix the problem 
Let's call this the "get credit four times instead of one-time" approach, a.k.a. "my boss loves me and I get promoted all the time" approach. 
1. Your boss asks you to do something 
2. You send your boss a quick email by EOD with an outline of how you will accomplish the project and the key (specific) timelines you will work toward, including check-in points 
3. You work on the project 
4. You give your boss an update during your weekly 1:1 meetings or you send a quick status email saying everything is on schedule. Keep reminding them of the timeline you had agreed to earlier. It's usually best just to forward that original email with a quick comment.
5. You send an email by 5:00 p.m. the day before the project is due with a simple title and message: Pre-Read: Project X.
"Hey Boss, I wanted to send you a copy of the final project in advance of tomorrow's deadline. If you have any questions or comments I'm happy to adjust before the meeting tomorrow." 
6. You turn in the project (at the meeting), etc. 
There is no magic here. It's just a matter
Pro Tip: Forwarding emails to your boss is a really easy way to share updates with minimal effort.
You don't have to write an essay. Just a simple heads up should suffice:
"Hey Boss, just a quick FYI . . . below is an update from Casey on the budget proposal that is due later this week. Everything is on track. Let me know if you have any questions."
Whether your boss reads the email or not, their experience of you is that you communicate effectively and provide updates in a timely manner. This engenders trust as well as recognition of all the work you do. #winning
MAKE IT EASY TO SAY YES
When it comes to getting approvals, it is your responsibility to make it easy for the other person to say yes.
Let's use a simple example: If you want to ask someone to be your mentor you don't start by walking up to them and saying,
"Hi, I was hoping you would be my mentor for the next three years and we could spend a lot of time together and I could ask you a lot of questions and hopefully you can help me get promoted because other people will be impressed that you are my mentor." 
This is exactly the wrong approach because you haven't made it easy for the other person to say yes. You've asked for too much too soon, and as a result, you've made an unreasonably intimidating proposal. 
Try this instead:
"Hi, my name is [Your Name]. I really admire what you've accomplished at this company, in particular the way that you turned around the kids' business, and I was hoping that I could steal fifteen minutes of your time, buy you a coffee, and ask you a few questions? If it works for you I could follow up with your assistant to find some time in the next three to four weeks."
Do you see how this is structured? 
There were three key elements to this approach: 
Start small: Ask only for fifteen minutes. Everyone has fifteen minutes.

Be specific & flexible: When trying to get to yes, it is important for you to understand what is essential and what is flexible.

Flattery will get you everywhere: Everyone is human, and as such, everyone likes to hear they're doing a good job.
Getting to yes is a skill. If you get rejected, don't get mad. Sit down, put yourself in the other person's shoes, and figure out where you went wrong.
Pro Tip: Last-minute requests are a no-no.
No one likes to be put in a situation of having to make a decision under pressure (or with a lot of people watching). Do everything you can to stay ahead of deadlines, because the more time you can give your boss to consider the idea without outside pressures, the more likely you can resolve any concerns and get to yes. 
Remember: surprises are your enemy at work, so don't surprise your boss with a last-minute request.
IF SOMEONE AT WORK HATES YOU
It is inevitable that at some point in your career you are going to come across someone who just straight up doesn't like you.
You need to figure out why they hate you and then discuss it with them directly. 
Step 1: Figure out why they hate you
People don't hate people for no reason. Whether big or small, there is always something. Start by asking questions yourself.
Once you've performed an honest self-assessment, you are ready to seek insights from trusted people around you. This is a delicate situation. There is a right way and a wrong way to talk to other people about someone who dislikes you.
Here's the right way: Talk with your fellow coworkers, boss, or HR in a simple and open-ended manner:
"Hey, I'm hoping to get your advice. Person X doesn't seem to like me and I can't quite figure out why. I want to fix the relationship so we can continue to work well together. Do you have any insights for me or advice on working with them?"
Your goal is to shine a light on the problem while also claiming the higher moral ground.
Step 2: Talk to the person (who hates you)
In order to resolve the conflict, you must speak directly to the person who doesn't like you. This is the moment of truth and, this issue won't resolve itself if you don't address it directly.
The key is to keep it simple and use their humanity to your advantage.
Ask for five minutes: If you ask for thirty minutes, they are likely to say they are too busy, so just get your foot in the door by asking for five minutes.

Own it: The first thing you want to do is take responsibility - you need to quickly establish that you aren't here to complain (or blame). Instead, you are here to resolve whatever is wrong.

Ask what you can do to improve the relationship: Try something as simple as "It seems like we aren't connecting in the way that I'd like to, is there something that I've done to upset you?

Shut up and listen: After you've demonstrated a willingness to take responsibility for the situation, let them talk.
Maybe there isn't a problem. Maybe there is no issue at all and you've invented this entire scenario in your head. Maybe the other person didn't realize that what they were doing was actually causing you concern. In any of these cases, the other person (hopefully) will take some responsibility for the misunderstanding and you can both feel more connected (and careful) as a result of this conversation.
No matter what the outcome, you've done the right thing. Congratulations.
Pro Tip: Make sure you circle back.
Go chat with every single person you spoke to during the buildup to the actual meeting (with your hater). If everything was resolved, it is important to close the loop so everyone sees that you are a person who can solve problems effectively.
——————————————————————————————————————
This was a 2500-word article and it's just Part 1. Check for Part 2 & Part 3 notes & summary of the book in the next articles.
Also, if you found this article interesting and valuable, please share this with at least 1 friend. 👉📩